by James Russell Lingerfelt
Miss the first update? Read it here: 
The Mason Jar Film Update #1
So, I finished the screenplay for
The Mason Jar
in early November, 2014. I worked over 2 years on it and it went through 25 drafts and a handful of professional script doctors.
Most screenplays are a collaboration of screenwriters. If I'm ever paired with other screenwriters through a studio, I'd be grateful. But you have your limitations when you're based out of Nashville and no one in Atlanta takes you serious if your cell phone doesn't begin with 310.
Writing the screenplay is never finished. Even after the cameras roll, the director discovers certain scenes don't work (for every reason you can imagine). Then, the screenplay changes even more. 
The Curious Case of Benjamin Button
by Eric Roth (screenwriter of
Forrest Gump
) went through eight drafts after filming began. 
I wrote a 1 page and a 5 page treatment for
The Mason Jar
(a treatment is a summary of the screenplay – like reading a short story). Many producers prefer to read that before diving into the screenplay. After 2-3 years of building relationships, I sent the treatment to a number of producers who have made love stories from the male perspective (think Nicholas Sparks films or The Vow).
Films are green lit all the time, but they fall apart for various reasons. Sometimes, movies are past pre-production (the planning stage) and are in full production (cameras are rolling) and they still fall apart. You never know if a movie will be successfully made until the final cut is finished and you have distribution to cinemas, video-on-demand, streaming-video-on-demand, and so on. 
So far, two producers have responded positively. They said the story is beautiful, but their answer was no because either the funding isn't available or they didn't believe it's commercial enough (meaning it needs to sell in countries like China, Korea, etc.) But then our contact at Hallmark said no one knows for sure what's commercial or isn't. "You just have to find a producer who loves it and runs with it," he said. What's not commercial about a guy and a girl falling in love, are separated through a misunderstanding, and then they fight through the rest of the film to be reunited?
Our contact at Sony, which in my opinion would be the best studio fit for
The Mason Jar
(they're famous for making love stories) received the treatment, but now the cyber-attack from North Korea has stalled progress there.
As I stated in Update #1, I could have
The Mason Jar
movie made this coming year on a $3 million budget. But the majority of movies we all know and love were made on at least $12 million. Most of them were made between $25 and $30 million. I want to explore those avenues first.
Further, I just returned from Beverly Hills where I spent a week with Matt (my producer friend I spoke of in Update#1. He has believed in making The Mason Jar film on a large budget from the beginning). Things are still going well with him. He has the treatment and screenplay, and he's currently speaking with his investors. But we're exploring all our avenues to maximize our options.
Thank you all for your letters and your notes of support. This is a David vs Goliath journey I'm on, but I wouldn't trade it for any other mission right now. 
If you want to help, please tell your friends about the project and have them subscribe to my
email list
or follow me on the
social networks
 for updates.
All the best,
Your brother in humanity,
James Russell Lingerfelt
Read another popular post:
Don't Ever Apologize For Loving Someone – Not Ever!
---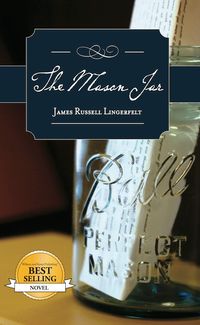 Did you like this article? Make sure to check out 
The Mason Jar,
 a coming of age love story from the male perspective by James Russell Lingerfelt. The novel helps readers find healing after severed relationships.
The Mason Jar
 movie is scheduled for pre-production in 2015 and will be directed in the same dramatic and romantic tones as 
The Notebook
 (2004) and 
Pride & Prejudice
 (2005). Follow him on 
Facebook
, Pinterest, YouTube, 
Google+
  or 
Twitter
or subscribe to his 
email list
 for updates.